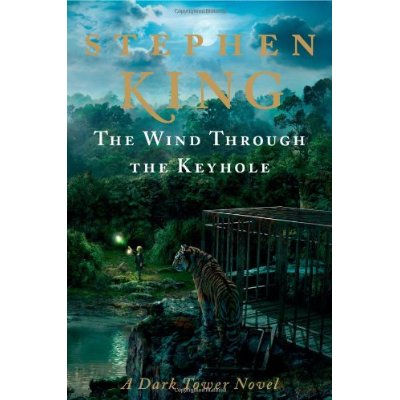 The Wind Through the Keyhole a Dark Tower Novel is the eighth volume of King's Dark Tower series. The Dark Tower series is King's answer to Tolkien's The Lord of the Rings
, and it was a mammoth effort of seven volumes of pure genius, approximately fifty thousand pages of unrelenting drama, described in fluent and avid detail as only Stephen King can. The series follows an ageless gunslinger, Roland Deschain, who is hunting down the man in black, who represents the forces of evil. The story is set upon a desert background in a world which supposedly runs parallel with our world. There are portals which enable crossing from one world to another and King brings this in to give us the occasional glimpse of reality along this fictitious marathon.
It is a wonderful effort by a very gifted writer, who delivers a gripping quest, spiced by fascinating personalities, as they tackle various adversaries along the way. Written with great imagination and aplomb, this series kept its readers hooked until the very last page where they were treated to the most classic of King endings. But then again, would you expect anything else?
Eight years later, Stephen King adds The Wind Through The Keyhole
(a Dark Tower Novel) as his latest installment to the Dark Tower series. Here he delves more into Roland's youth and background, as the gunslinger relates stories from his past to his katet as they shelter from the starkblast, a storm with lethal potential. Roland describes how, as a teenager, he was sent to a distant town to kill off a monster (the skin-man) which is running amok, slaughtering the town folk. Upon arrival he discovers that this monster can change shape and take the form of almost any animal. Roland begins investigating to see if he can identify any weaknesses. He meets a boy, a survivor and witness of the last attack, and he questions him and as he sits with him, relates to him another of his tales.
This tale, a classic tale he grew up with, is about a boy, Tim Ross, whose father dies (supposedly killed by a dragon) in the dark forest, and now lives alone with his mother with the constant threat of eviction from their cottage if they can't keep up with the rent to the landlord, the Covenant Man. When an old friend, Bern Kells, offers to marry his mother and solve their debt issues, things appear to be too good to be true. And indeed, with time, Kells begins drinking and beating his mother and when the Covenant Man appears, he hands Tim a key which, upon using, reveals a dark secret about Kells. When Kells discovers that his secret has been revealed beats Tim's mother in a fit of rage, and as a result she is blinded. Tim goes in search of the Covenant Man to find a cure and encounters many magical obstacles on the way. The story concludes with Tim healing his mother and killing his stepfather with an axe.
Roland then resumes the tale of his hunt after the skin-man and describes the harrowing last struggle with the beast before successfully overcoming it.
This was another classic volume of the series, the drama as ever dragged out and makes you desperately want to skip pages to find out what happens. The Wind Through the Keyhole a Dark Tower Novel is another very good read, and although not directly connected to the actual quest after the dark tower, gives an eye opener to the background of the gunslinger, and upon King's recommendation, should be placed between volume's four and five.
Check it out on Amazon.com
Other book recommendations:
The Fifth Witness by Michael Connelly