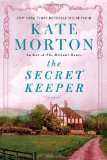 For the perfect book to curl up with on a cold or rainy day, pick up The Secret Keeper
by Kate Morton. Morton is a magician at storytelling and you will easily get lost in this book and likely read it in once sitting.
Taking place in the early 1960's in England, sixteen year old Laurel is living an idyllic life with her mother, father, three sisters and brother in a house in the countryside. A shocking event that Laurel witnesses hiding in her tree house between her mother and a stranger change the course of their lives forever.
Fast forwarding on to 2011, each of the siblings are summoned back to Greenacres Farm to an ailing mother who is nearing her 90th year. Laurel sees this as her last change to have questions answered about that day over fifty years ago.
Shifting from past and present seamlessly Morton tells Dorothy's story. Setting the scene we find 'Dolly' a lively seventeen year old girl with her whole life ahead of her. Morton surprises the reader shifting from past to present again leaving you hanging to know the rest.
Between cryptic sentences and words spoken by her ailing mother as well as past mementos hidden in an attic trunk, Laurel and her brother try to piece together the puzzle. You'll find conflict, intrigue and mystery in this well written novel by Kate Morton with an ending with a fantastic twist. You may even find you'll need to re-read parts to find things you missed the first time around. The Secret Keeper is a great read.
Find it on Amazon.com