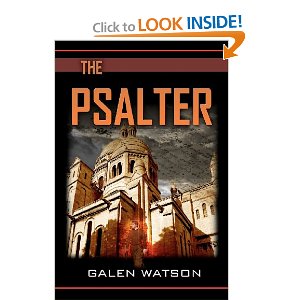 The Psalter
by Galen Watson is an undiscovered gem reminiscent of books by author Dan Brown. Bringing the same excitement and well written story lines, Watson captures a similar essence to that of the Da Vinci Code.
The book is gripping from the very beginning, drawing the reader first into what appears to be an almost humorous scene then instantly switching to one of secrets and murder. The Psalter, a seemingly ordinary old prayer book, is the catalyst to the turning events as Father Romano finds himself with the old book after his colleague was murdered to hide the secrets within it.
Hidden beneath the text are secrets of the churches' past and a mystery that Romano is determined to solve with no thought to the potential risk of his own life. Fleeing to Paris, Romano seeks out the help of an archivist, Isabelle Heber, who using current technology helps to decipher the hidden writing. A friendship and deep relationship grows between Romano and Isabelle, one that forces Romano to deal with his own pasts' secrets.
Seamlessly flowing from past to present the story is slowly uncovered for the reader. The connections between past characters and present are revealed in a shocking way keeping the reader constantly on its toes.
The author does a wonderful job of character building with each chapter revealing not only a new part of each character's history but a new part of the puzzle of the Psalter as well. Your heart breaks for the characters as they navigate through turbulent times in the churches' past and holds out hope for the future characters that their fate may not be as dire.
Bringing surprises left and right from the pasts' stories to the future character's as well, I was instantly drawn into this book and found it not only a page turner but one I would definitely recommend to a friend. If you like conspiracies and the possibility that things are not always as they seem, then you will love The Psalter.
Available on Amazon.com
— Reviewed by followbooks staff