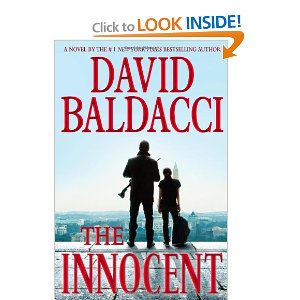 David Baldacci returns in yet another action thriller as The Innocent describes how an assassin, Will Robie, finds himself hunting down a faceless enemy.
Will Robie, a veteran assassin, has a few last missions to accomplish before retirement. After assassinating various people including a Saudi prince named Talal, Robie flies to Washington for one more job. He sneaks into the home and to his shock discovers that he is to assassinate a woman and her child. As he freezes in the face of this task, a sniper bullet suddenly finishes off the woman. He realizes that his employers may want him dead after this, he hurries away from the scene. He boards a bus and intervenes when he sees someone attempt to murder a teenage girl. He helps her off the bus and watches in disbelief as the bus explodes moments after his disembarking.
Discovering that his handler had gone rogue, Robie is now being hunted by the American government. He joins the investigation in order to keep tabs on their progress and he teams up with Lieutenant Vance of the FBI.
In the meantime, he finds himself saddled with the teenage girl, Julie, who saw both her parents gunned down, and as events unfold, realizes that her story and his are connected. He discovers an army connection between a couple of other families recently killed and he begins to try tracing their roots.
Events progress as Robie has to fend off numerous attacks aimed towards him, Julie and Vance and as he tries to find safe houses for them, discovers that the enemy has infiltrated the FBI as well. Things come to a head when Robie realizes that Talal hadn't been assassinated; his double had been killed that day, and there is an imminent plot on the president's life.
Robie eventually saves the day, but as he returns home discovers that Vance and Julie have been kidnapped by Talal. The Innocent
concludes with Robie having to give himself up in exchange for the lives of Julie and Vance.
An engrossing read; the plot constantly shrouded in mystery, one of the better Baldacci's I have read for some time. The protagonists' characters are well defined and there is a great chemistry between them. The drama and mystery build well to a satisfying conclusion.
Find this book on Amazon.com
Other book reviews: Jeffrey Deaver XO