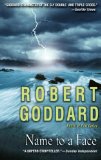 When Tim Harding is sent by his employer to bid for an old ring little does he realize that he is about to unearth a huge secret dating three centuries ago. And things become even more complicated when he suddenly finds himself entangled with mystery, deceit and murder.
Tim Harding is a gardener in the employ of Barney Tozer the wealthy owner of Starburst International. He sees no problem in complying with his boss's request to bid for an old ring on auction in Penzance. However, when he arrives he discovers that Barney's brother Humphrey also wants the ring and he is also informed that his employer is connected with a sinister story about a journalist, Kerry Foxton, who drowned while diving with sabotaged equipment with Braney in Sicily. The plot thickens when the ring is stolen the night before the auction and the suspicion falls on the house-keeper, Hayley Winter. Harding, having already met Winter is astonished to see her close resemblance to Kerry Foxton, the deceased journalist. While Harding comes to terms with the fact that his boss may be a murderer he is trying to understand what story Foxton was chasing which gave Tozer cause to kill her. Harding slowly begins piecing the puzzle together, discovering that the ring is linked back to the seventeenth century and a man rumoured to have been bestowed with secret healing powers. Just when Harding is about to give up on his search for Hayley, the woman calls him up, telling him to come along with his boss and meet her in Germany.
From mystery absconder, Hayley Winter becomes murderer as a hail of bullets kill Barney Tozer and Harding sees Winter fleeing the scene. Suddenly Harding is surrounded by conspiracy, from the doubts about the legitimacy of Starburst International, to the mysterious death of another witness. And as Harding draws ever closer to the truth he suddenly finds his own life in perilous danger.
This is Goddard at his best. He has a unique command of the written word, as he describes in vivid detail a sinister plot which leads back to centuries earlier. The story is shrouded in veils of mystery as Goddard peels back the layers one by one to reveal a surprising and dramatic climax.
Find this book and other Robert Goddard novels on Amazon.com
Other book recommendations: Jeffery Deaver XO