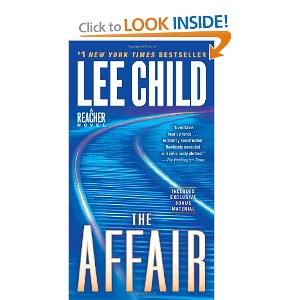 The latest Lee Child The Affair is the sixteenth book from Child and also the sixteenth featuring Jack Reacher, the conscientious giant, who doesn't see himself as a person who is righting the wrongs, but rather as a person who can't stand seeing people getting away with their wrongs. In The Affair, Child takes us back to Reacher's army days where he is investigating a series of suspicious murders.
Reacher is sent to Mississippi to investigate a series of supposedly random murders of three women, although he finds there is one common factor, all three possess great beauty. When he discovers an army base in close proximity where they don't allow him access, he begins to suspect that perhaps a cover-up is going on for a soldier who is behind the murders. It is fast apparent that there is great political ramifications here, and as a military cop, Reacher is supposed to make as light of this investigation as possible to protect the army's reputation. Stubbornly, Reacher continues in his pursuit of justice, partnering up with Elizabeth Deveroux, the local sheriff, romance quickly blossoms between the two.
The Affair by Lee Child is a more direct portrayal of Jack Reacher's personality, his simple way of living and his appetite for a scrap. We also see his integrity as Reacher refuses to heed the veiled threats, ignores the knowledge that he may be stepping on bureaucratic toes and takes on his commanding officer's fearlessly. I had been thinking that perhaps Jack Reacher had run his course, so perhaps to return to his army days is a smart move by Child. Although admittedly not one of Child's best efforts, it is still a good, fast flowing and enjoyable read.
Find this book and other great Lee Child books on Amazon.com
Other book reviews:
Hold Tight – Harlan Coben