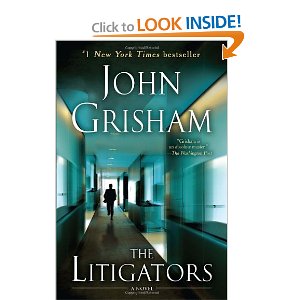 John Grisham: The Litigators yet another testament of the flowing narrative we have become accustomed to over the years as John Grisham expertly simplifies the legal (word for complicated topic) and breathes life to the courtroom drama. In The Litigators
John Grisham changes tack and for a change takes a look at one of the more shady law firms, the ambulance chasers, the small time lawyers who don't get to bill exorbitant sums and clock endless hours. The scene is described attractively, with a perfect dose of humor, as he depicts the in-office bickering and the day to day scrambling for cheap settlements.
The story explodes into action when David Zinc, an up-and-rising star in a prestigious law firm, suddenly snaps under the unrelenting pressure of the big firm demands and abandons his firm, his career and future. Staggering out of a bar dead drunk, he ends up by pure chance at the firm of Finley and Figg, the small-time firm of ambulance chasers with the two bickering partners, and within hours of stumbling in there, he bemusedly finds himself part of the team. Their luck takes a definite turn for the good when they stumble across a damaging pharmaceutical drug and prepare for the millions that the mass litigation will bring in. As the story hits the press, this unknown firm suddenly finds itself grabbing the front pages, as the bigger tort groups try to jump on their bandwagon. With Zinc keeping the firm's feet firmly on the ground, they start tackling the mammoth task of toppling the pharmaceutical giant, who, ironically, is being represented by David's previous employers.
As the preliminary hearing approaches, it is slowly becoming apparent that they may have been attacking a perfectly good drug, and slowly all the major tort firms begin to back out leaving the small firm to fight the lawsuit on its own. David is suddenly questioning his decision to join the firm, and just when he is wondering if things could possibly get worse, in a nasty twist, he suddenly finds all the responsibility of the trial thrust on his inexperienced shoulders.
While Grisham court cases usually tend to favor the underdog; this story twists and turns and I was kept guessing all the way. While we like our heroes to come out on top, Grisham isn't that indulging this time, but still delivers a satisfying conclusion. The Litigators by John Grisham was a lighter and more unpredictable Grisham for quite some time, and it was very refreshing for that.
Find this book and other great John Grisham novels on Amazon.com
Other book recommendations:
The Wind Through the Keyhole a Dark Tower Novel