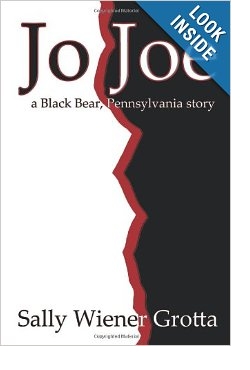 Jo Joe
by Sally Wiener Grotta is a beautifully written piece centered around a fictional town in Pennsylvania, Black Bear. The focal point of both love, family, pain and heartache, this small village was the primary home for Judith Ormand, a racially mixed Jewish woman whose entire childhood was spent in search of a place to belong.
Finding a strong friendship and protection from an unlikely source, Joe Anderson, one of the more popular boys and football stars of the local high school, Judith, nicknamed Jo by her best-friend based on her initials, is ripped away from her best friend one night after the two share an intimate embrace.
Unsure of what caused her closest friend to flee from her and turn away from their friendship, Judith is suddenly left without the protection she had once had and is brutally attacked by a few boys from town, one of them being Joe's older brother.
Vowing to never return to the horrible place of her nightmares, Judith leaves Black Bear and makes a name for herself internationally helping women in need throughout places in Africa and beyond. That is, until she hears news that her Grandma has passed away and has to return to deal with the estate.
Back home, Jo must face past demons in both memory and in the flesh and within one week goes on an emotional journey that will ultimately help her to heal old wounds.
This book was riveting and is highly recommended. The author tells a beautiful story and captures your attention instantly, drawing you in to the characters and the place that is Black Bear, Pennsylvania.
Find Jo Joe on Amazon.com