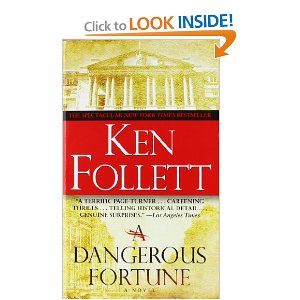 A Dangerous Fortune by Ken Follett is a gripping tale about two cousins' bitter rivalry in their aim to achieve success in the banking world.
The story begins with the mysterious drowning of a schoolboy, Peter Middleton. Hugh and Edward Pilaster are cousins, Edward the son of a respected and successful banker. Although Hugh is the more successful of the two, Edward and his mother Augusta scheme desperately to manipulate Edward into the role of manager. With the aid of Hugh's school friend Mickey Miranda, a South American who is a sly schemer and will stop at nothing to achieve his goals, Augusta uses him to help advance her son's career.
Mickey, on an agenda of his own who is trying to use the bank's advantages to help supply his father's gun running in South America, is more than happy to oblige; the bank is refusing the loan but the banker is aging already and Mickey and Augusta devise a plot to suit both of their needs.
As the story unfolds, it is apparent that despite Edward being the manager, Hugh is a lot more successful, and coupled with the fact that Edward is lazy and has sunk into gambling and prostitution, the bank is surely doomed unless Hugh takes over. Hugh in the meantime is embroiled in his own personal turmoil with his long term wife. However, despite it being obvious that he would need to step in to save the bank, the opposition presented by his cousin and aunt is formidable, and the story twists and turns as we wonder whether good will prevail over evil.
Ken Follett is renowned for his story telling ability and A Dangerous Fortune
is up there among his best efforts. An intricate plot with colorful characters depicted in vivid detail, this story twists and turns until you squirm on your seat out of tension and you can't turn the pages quickly enough. A Dangerous Fortune is a gripping read.